Practical Pragmatism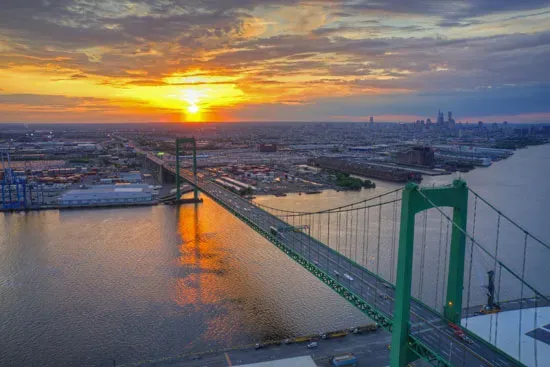 The Walt Whitman Bridge is a 12,000 long suspension bridge that towers over the Delaware River. It connects South Jersey to South Philly with a total of 7 lanes!
This bridge is practical because we know what it's for. It does something useful by carrying 120,000 cars daily over the Delaware River.
This bridge is pragmatic, not theoretic. It's been successfully predictable over the past 66 years. When you travel over the Walk Whitman Bridge, a positive result occurs - YOUR CAR MAKES IT ACROSS, without the bridge falling down.
Because of this simple fact, the Walt Whitman bridge makes people feel good about themselves when they drive over it.
However, this same engineer focused approach of practical pragmatism has greatly harmed the church.
A "s0-called church", built on practical pragmatism, will work overtime to try to make unbelievers happy. They pragmatically look at what works to make the culture happy, and then try to duplicate it in the church.
Here are some examples of what practical, pragmatic churches do:
· drop eggs from helicopters to kick off an egg hunt on Easter;
· have the pastor zip-line to the pulpit;
· build indoor rock-walls;
· build extravagant café's and coffee shops;
· attract visitors through free ice-cream, free gas-cards, free coffee and donuts;
· push for MORE programs, rather than MORE preaching & evangelism.
Practical, pragmatic churches seek to please man, rather than simply pleasing God.
This is also why you see churches with worship bands, worship leaders & worship greeters. It's all about trying to please people, and make those people feel as euphorically happy as possible.
The church "experience" is built around the positive feelings someone has when they visit. To man, it seems practical, because it manufacturers a visible, pragmatic result.
The church should not seek results by asking: Does this work?
Rather, it should ask: WHO does this work for?
It may work for man's ego to SEE a result of a building being full. But it doesn't make God happy.
The church is FOR God's glory, not man's ego!
The church will GROW because God is building it, NOT man!
The church will produce a spiritual, eternal result that God will see, not what man can visibly produce.
Finally, if you were ever to cross over the Walk Whitman bridge, you would only pay ONE WAY, traveling from New Jersey into Pennsylvania. If you're travelling from PA to NJ, it's a free bridge to cross.
I point this out, because there is a spiritual application to be made. There are only 2 destinations for all mankind: eternal death or eternal life.
If you want to pass from eternal death to eternal life, it's a one way bridge. That bridge was paid for by the Lord Jesus Christ on Calvary's tree. He paid your toll violations, and became a bridge for you to freely pass over.
However, if you decide, out of the pride of your own heart, that you want to pay your own bridge toll, you'll end up passing from your physical life to eternal death.
Your toll violations are so great, that you could never pay them off. Why not accept the price Jesus Christ paid for you?
You've got 2 choices:
Pay your own toll and end up in eternal death.
Or accept the toll that's been paid for you and end up receiving the free gift of eternal life.
John 3:14-15 And as Moses lifted up the serpent in the wilderness, even so must the Son of man be lifted up:That whosoever believeth in him should not perish, but have eternal life.