Legalism and False Spirituality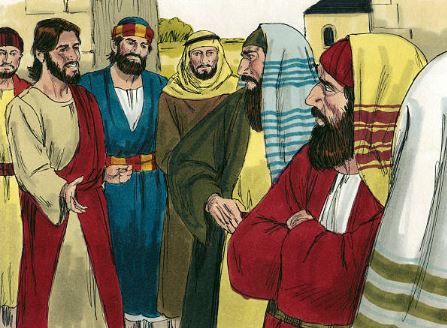 Legalistic reasoning requires conformity to external rules and brings about a false sense of spirituality!
The correct order of law is HOW holiness and true spirituality is achieved in the legalistic mindset. External conformity becomes the measuring stick for spirituality. This was the error of the Pharisees and is an easy trap to fall into.
Someone may ask: is keeping external rules a bad thing? The answer is: NO, not at all.
Remember, the Pharisees had God's law, and that was a good thing! There was nothing wrong with the Law! God wanted the nation of Israel to obey His Law. God purposefully gave them externals to conform to.
But notice what God said in Exodus 20:6 And shewing mercy unto thousands of them that love me, and keep my commandments.
God told the nation of Israel that "LOVING ME"  was the prerequisite to keeping external commandments. In other words, without a heart full of love for God, the motive to perform an external commandment of God would always be off.
Loving God is an internal heart change. Keeping God's commandments is external obedience. God desires both! However, the order is as follows: internal change, producing external change.
The "modern mega-church" and their followers lack external change BECAUSE they don't love God internally, from the heart. They don't WANT to live a holy life. Therefore, they don't believe external change is necessary. They just want to call someone else a legalist who even suggests their external life should change.
Likewise, the "modern Pharisees" lack internal change BECAUSE they don't love God either. They just want to see everyone conform to external commands.
Both sides are wrong and end up confused. This confusion opens many to false-doctrine that leads to a sense of false spirituality.
Colossians 2:2-12 That their hearts might be comforted, being knit together in love, and unto all riches of the full assurance of understanding, to the acknowledgement of the mystery of God, and of the Father, and of Christ; In whom are hid all the treasures of wisdom and knowledge. And this I say, lest any man should beguile you with enticing words. For though I be absent in the flesh, yet am I with you in the spirit, joying and beholding your order, and the stedfastness of your faith in Christ. As ye have therefore received Christ Jesus the Lord, so walk ye in him: Rooted and built up in him, and stablished in the faith, as ye have been taught, abounding therein with thanksgiving. Beware lest any man spoil you through philosophy and vain deceit, after the tradition of men, after the rudiments of the world, and not after Christ. For in him dwelleth all the fulness of the Godhead bodily. And ye are complete in him, which is the head of all principality and power: In whom also ye are circumcised with the circumcision made without hands, in putting off the body of the sins of the flesh by the circumcision of Christ: Buried with him in baptism, wherein also ye are risen with him through the faith of the operation of God, who hath raised him from the dead.